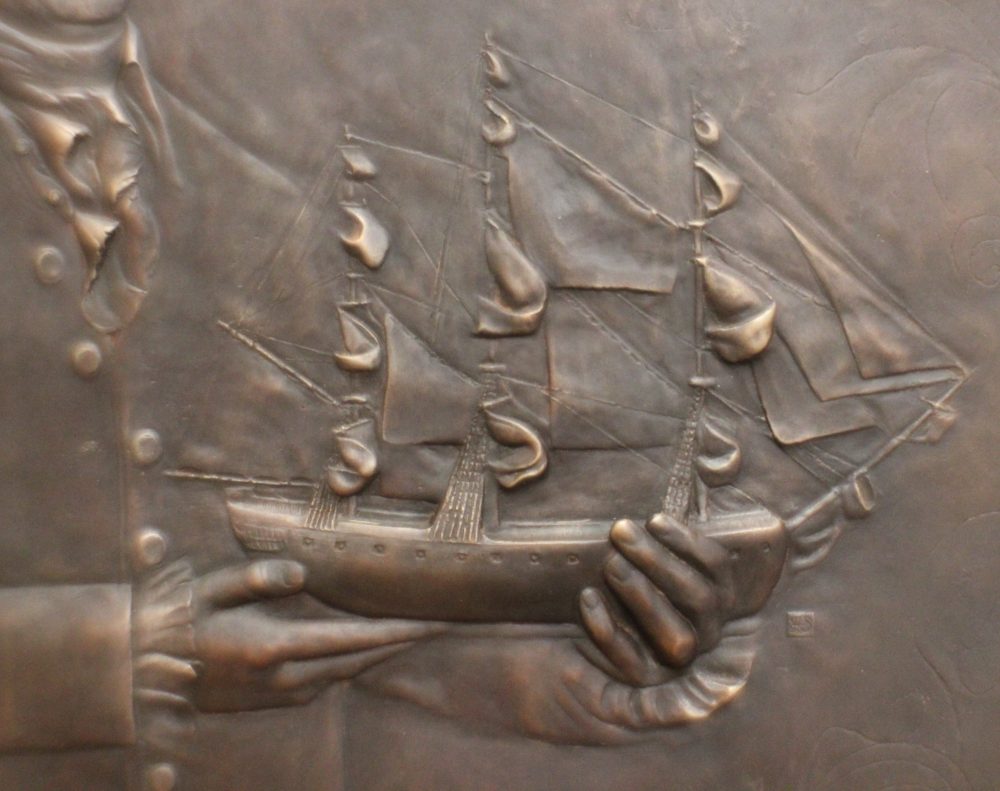 Historic New England and the New England Sculptors Association
Collaborate to Create a New Artist-in-Residence Program
Sculptor Amanda Sisk is first Artist-in-Residence
Portsmouth, N.H., July 2016 – Historic New England and the New England Sculptors Association have announced an Artist-in-Residence program for NESA members that will be located at Historic New England's Governor John Langdon House in Portsmouth, New Hampshire. After a formal application and interview process, Amanda Sisk was chosen as the first Artist-in-Residence. The on-site portion of the residency will begin the first Friday in August and continue on Fridays through Sundays until the end of the month to coincide with the schedule of the Langdon House. Visitors will be able to see her work and can sign up for workshops that she's developed for people of all skill levels from beginners to professional sculptors. Sisk will also be on-site during Art 'Round Town, Portsmouth's first Friday gallery walk, on August 5 and September 2 from 5 p.m. – 8 p.m. to discuss and display her sculpture. A special event will be held in September to auction the work created by Sisk to help raise awareness and funds for succeeding years of the program.
"Historic New England is delighted to have Amanda Sisk as the Artist-in-Residence this summer. Her work will complement the history and architecture of Governor John Langdon House and will allow visitors to experience the site in new and exciting ways," said Ken Turino, Historic New England's manager of community engagement and exhibitions.
"The program was developed to bring new audiences to the site through creative methods of interpretation and to provide interactive experiences that make connections between art and history," explained Linda Marshall, regional site manager, Northern New England. "We decided that for the first year, an artist who does figurative-style work would be selected to create a sculpture based on historical research done at Langdon House."
An award-winning sculptor, Sisk has extensive figurative-sculpting experience. In the United States and in Italy, she learned to sculpt as artists did in the 1800s, and visitors will be able to see her work using traditional sculpting methods. She has exhibited widely, and her work can be found in private collections, museums, and in public venues. She was also Artist-in -Residence for two seasons at Saint-Gaudens National Historic Site in Cornish, New Hampshire.
She has already begun to delve into the history of the Langdon House, which is really fascinating — starting with John Langdon, an important Revolutionary War figure and governor of New Hampshire, who built the house in 1784 for his family. Other families who lived there included Charles Burroughs, rector of St. John's Church and his wife Anne, Frances Bassett, and Elizabeth and Woodbury Langdon who used it as a summer home. Elizabeth Langdon deeded the house to Historic New England and the organization has been operating the house as a museum ever since.
"Sisk will work in the building that is located to the right of the Langdon House — we're turning it into her 'studio away from home,'" added Marilyn Ewer, executive director of NESA. "The studio will be open during regular visiting hours: Friday – Sunday from 11:00 a.m. – 5:00 p.m. each weekend in August. Visitors will be able to watch her create a sculpture and can participate in workshops that will be held on Saturdays. Hopefully local residents will visit repeatedly so they can watch her progress."
"It is an honor to serve as the first Artist-in-Residence at the beautiful and historically significant Governor John Langdon House," said Sisk. "This is a wonderful opportunity to concentrate on creating a figurative sculpture and explaining the traditional sculptural process to Portsmouth residents and visitors."
About Historic New England
Historic New England is the oldest, largest, and most comprehensive regional preservation organization in the country. It offers a unique opportunity to experience the lives and stories of New Englanders through their homes and possessions. For more information visit www.HistoricNewEngland.org.
About New England Sculptors Association
One of the leading sculpture organizations in the country, the New England Sculptors Association (NESA) has a diverse membership that includes internationally recognized sculptors, emerging artists, and students. Its members are selected by jury and work in a variety of media. NESA sponsors and works with partners to co-sponsor exhibitions, workshops, and events that increase the awareness and appreciation of sculpture. To learn more about NESA, visit www.nesculptors.org.
Workshops:
Flora and Fauna: Sculpting in the Langdon Gardens – August 6th
The Portrait in Bas-Relief – August 13th
Carving Ornamental Architecture – August 20th
Modeling in Wax – August 27th